Creating an Office Move Plan – The Critical Steps You Have to Take
An office move is a stressful time for everyone in the company. It's hard to stay productive with all sorts of distractions moving can involve. On top of that, a lot needs to be done for the move to go smoothly.
This is why a solid moving plan ensures you can transition to the new space as seamlessly as possible. By preparing yourself and your team, you can minimize disruptions and have all your equipment arrive safely.
If you're unsure how to plan an office move that will make this happen, here are some key steps to follow:
1. Review Your Current Lease and Plan Decommissioning
Before you move into your new space, you should check if you have any obligations towards your current landlord. Perhaps the office needs a fresh coat of paint or repairs before you can return the keys. Maybe there's damage you're liable for, and you need to compensate the landlord. Have a look at your lease terms and the general state of the office to ensure you fulfill all your duties.
Then, set up a decommissioning plan to let you leave the office the same way you entered it. Look at furniture, installations, fixtures, and all other details your landlord will assess before you move out.
Legal trouble is the last thing you need amid an office move, so don't leave any stones unturned. It's best to do this a few months before the move to leave enough time for the necessary repairs.
2. Put Together a Team in Charge of Moving
Switching to a new office is a daunting task. It involves many processes and details that might be too much for one person. That's why it's best to designate a team to help you care for everything.
Delegate moving tasks across team members just like you would any regular project. One team member can look into moving companies while another handles packing and labeling. Whichever way you organize it, make sure everyone's clear on their tasks to avoid confusion.
3. Inform Your Employees
Moving away from a place you've spent months or years working from is difficult. Your employees will need some time to adjust, so let them know about the move ahead of time. That way, they can prepare and go through the transition period more easily.
If you're moving far from your current office, it will impact local employees. Let them know if there are any relocation plans or a potential to work from home. These are all significant changes that your employees will need time to consider.
Keep your team posted as the move progresses, notifying them about each major milestone. It's also a good idea to give employees a timeline and checklist for the move, so everyone is on the same page.
4. Assess Your Equipment
An office move is an excellent opportunity to get a bird's-eye view of your equipment. Do you plan on bringing everything with you, or is there something you should replace? You'll need this information to plan your budget and get accurate moving quotes from the companies you contact.
Look at everything from chairs to IT equipment, and see if anything's worn out or outdated. If so, devise a plan for disposing of the equipment you won't take with you. Lastly, ensure that everything you plan on moving and buying will fit the new space.
5. Research Moving Companies
This is easily one of the most critical steps of your office move plan. A mover can make or break the overall experience, so take your time and browse your options carefully.
You should never take the first quote you receive. Instead, compare a few options to see if the cost is reasonable and if you can perhaps get more for your money. It's usually best to hire a full-service mover, which can involve a significant investment, so you need to ensure you're not wasting money.
When asking for a quote, keep in mind that it's not just the distance between the two offices that determines the cost. The amount and weight of your equipment play a crucial role as well. That's why you should have a detailed inventory and share all the relevant information with every company you contact.
When you start comparing different options, here are the main factors to consider:
Licenses and certifications – Always go with a certified mover to ensure high service quality and avoid scams.
Experience – This doesn't just mean years in business, but also the company's previous experiences with moves like yours.
Additional services – See if your mover can pack everything for you and set up the new office, including IT equipment.
These are some of the main things you need to keep in mind when choosing a mover. When you do, ensure that everything you agreed on is on paper alongside the detailed inventory.
6. Find a Good Insurance Plan
Every mover is legally required to offer insurance. However, you may not get all the coverage you need. This is because movers usually offer so-called released value protection. According to this plan, your equipment is only ensured at 60 cents per pound.
There's a high chance you'll be transporting lots of valuable equipment, so you'll want to insure it fully to minimize the risk of massive losses. You can purchase full-value protection or add third-party insurance to the mover's plan.
You'll have to crunch some numbers here, so be diligent. By conducting proper research, you'll save yourself many headaches down the line.
7. Protect Sensitive Information
Besides your equipment, you need to secure maximum protection of your data. You'll be transporting a lot of it, and any loss can lead to severe business disruptions and security issues.
Make sure to keep all sensitive documents locked and out of reach. Moreover, you should back up all your data to the cloud. If any hardware containing your data gets damaged in transport, you won't lose any critical information.
8. Create a Detailed Timeline
Once you've found a mover, it's time to solidify your moving office plan. Discuss all the relevant details with the mover and ask them for an action plan. They should give you a detailed overview of all the critical dates so you can plan accordingly.
If you have the move date, reverse-engineer the timeline by setting milestones and deadlines. You should know precisely when you'll start and finish packing, meet the movers, and arrive at your new office. Perhaps you won't transfer everything at once or even on the same day, in which you should organize a storage solution.
Your office move will seem less daunting as soon as you have everything on paper. Of course, you shouldn't be too strict with deadlines, as you never know what surprises you'll encounter. Leave some room in your schedule for unexpected events or potential mishaps, and you won't risk breaking any key dates.
9. Announce the Move
When you have all the dates set, it's time to let everyone involved know about them. The first step is telling your employees so that they have time to start packing and making relocation arrangements if needed.
Then, you'll want to let the landlord know so they can come and inspect the office. Take time to go through everything with them and ensure everything's ready for the termination of the lease.
Finally, you should mention the move to outside parties like customers, vendors, and everyone else the move might impact. Perhaps you have an important meeting scheduled that you might have to move or deliveries that should now come to the new office. Make a list of everyone who should know about the move, and send an email announcing it.
10. Gather the Necessary Supplies
If you decide to pack internally instead of letting your movers handle it, you should gather everything you need ahead of time. Last-minute supply orders are bound to add a lot of frustration to an already stressful event.
Some of the main supplies you'll need include:
Boxes
Bags
Labels
Plastic wrap
Markers
Have a look at your inventory to see how many supplies you need, and don't hesitate to seek input from your team so that you don't miss anything. It's a good idea to order a bit extra, as it's better to leave some supplies unused than run out of them in the middle of packing.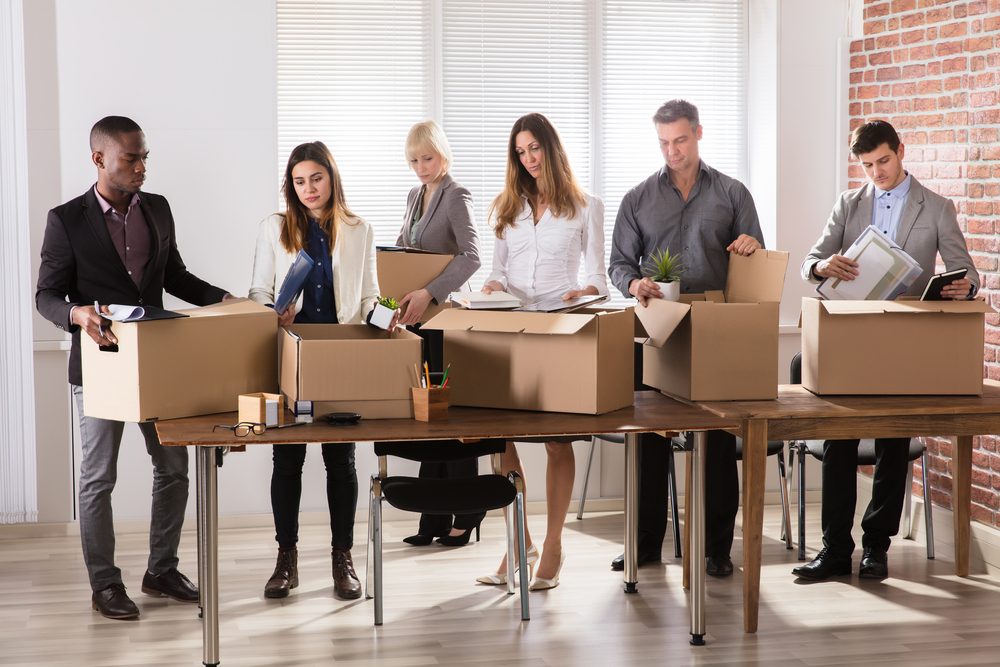 11. Consider Additional Services You'll Need
You may need a few service providers other than movers during the relocation process. For example, you should hire a cleaning crew to take care of the office once you move out. Your landlord may have a strict date by which they need the office as good as new, so you should schedule this in advance.
In addition, your new office might need some sprucing up. Perhaps you need landscape architects or decorators to give the new space some finishing touches. Such services can sometimes drag on, so it's best to reserve them for the dates that work for you.
Finally, you'll need someone to properly disconnect your IT equipment just before the move and set everything up in your new office. If your internal IT department can't handle this, you'll need to contact an outsourced team and ensure they can have everything ready before the moving company arrives.
12. Prepare for the Move Date
As your move draws near, things will likely get a little hectic. Everyone will be caught up in packing while still trying to be as productive as possible. A detailed checklist of everything you have to do at your current office in the last few days can help immensely.
Here are some of the key things the checklist should include:
Update all your accounts and business details with the new address.
Review the building rules of your new office (unless you've bought the building).
Order keys/access cards for everyone.
Check the office after leaving to ensure nothing's left behind.
See if all the installations and utilities in both offices are working correctly.
Of course, the actual checklist will be longer and contain many details specific to your business. But the gist is that you should get the most out of the final week at the office and tie up any loose ends. Then, check in with the moving company to confirm the move date, and ensure the office is packed up by then.
13. Have a Post-Move Plan
When coming up with a move plan, people often focus on everything that happens before the move. When switching offices, what you do afterward is equally important. If your office move plan doesn't include a list of activities you'll do once you move in, you might waste a ton of valuable time.
To avoid this, ensure that your plan includes the following:
Testing your IT equipment – Regardless of whether your mover or internal team will set up the IT equipment, you should first check if everything works as it should.
Check-in with your moving plan team – If you coordinated the move with a designated team, have a quick meeting to see if everything went well and what else is there to do.
Reach out to the landlord – After vacating the office, contact your former landlord to ask them if everything's in order. You can also contact the new one to let them know you're situated.
Ensure a Hassle-Free Move
Your office move plan determines how smoothly everything will go. If you wing the move, many things can go wrong, so start making the plan on time and revise as necessary. It's almost certain you won't think of everything at once, so leave some time to update the plan proactively.
As relocating your business can be stressful, don't hesitate to ask for help. Trying to do it all by yourself leaves you open to unpleasant surprises. That's why working with professional movers is highly recommended. They can take care of many things other than transport, leaving you more time to oversee the process and ensure everything's going according to plan.
If you're preparing for a move and need help, feel free to reach out. Our expert team will help you create and execute a detailed moving plan, so you can get your new office up and running as soon as possible.